Public Service Announcements
MARCH 29, 2023: Public Hearing Notice for FY 2024 Clean Water State Revolving Fund (CWSRF) Project
PUBLIC HEARING NOTICE
FY2024 CLEAN WATER STATE REVOLVING FUND (CWSRF) PROJECT
The Downriver Utility Wastewater Authority (DUWA) announces a Public Hearing regarding its Project Plan for the proposed Ultraviolet Disinfection Replacement Project at the Downriver Wastewater Treatment Facility (DWTF) in Wyandotte, MI. The purpose of this public hearing is to receive comments from interested persons.
The Ultraviolet Disinfection Replacement Project involves replacement of the existing ultraviolet (UV) disinfection system with an upgraded disinfection system. The existing UV disinfection system is obsolete in that the manufacturer no longer provides technical support nor supplies spare parts, and it has now reached the end of its useful life. UV disinfection is the final step in the wastewater treatment process where the DNA from bacteria and other pathogenic microorganisms is damaged such that the bacteria cannot reproduce. Disinfection is necessary to ensure the effluent water is safe to be discharged to the Detroit River in accordance with the DWTF's discharge permit requirements.
The temporary impact of construction activities will be minimized as all work is planned to occur within the existing building and facilities at the DWTF. Improvements to the infrastructure are needed to maintain the long-term reliability of the DWTF to treat wastewater from the surrounding communities. This project will improve the treatment of sewage flows through the DWTF.
Adverse impacts on historical, archaeological, geographic, or cultural areas are not expected as all work is proposed to take place on the DWTF site where earth has been previously disturbed for construction. However, if any potential impacts arise, construction will be halted and the proper steps will be taken following appropriate guidelines.
The cost of this project is currently estimated at $16.5 million and is eligible for participation in the Michigan Department of Environment, Great Lakes, and Energy (EGLE) low interest Clean Water State Revolving Fund (CWSRF) financing program. DUWA intends to pursue this low interest funding opportunity for FY2024.
The public hearing on the FY2024 CWSRF Project proposed by DUWA will be held for the purpose of receiving comments from interested persons. The presentation at the public hearing will provide a description of the need for the project and the proposed improvements, their estimated costs, anticipated impacts, as well as the cost per household impact for customer communities. Comments and viewpoints from the public are requested. The Project Plan document will be available for review here after March 29, 2023.
THE MEETING WILL BE HELD ON:
DATE:      Thursday, April 13, 2023
TIME:       9:00 AM, Eastern Time
Members of the public may offer comments in the following manner:
In Person: Members of the public who, subject to capacity, wish to attend the meeting and/or offer public comments in person may attend the meeting at the location provided above.
By Zoom Videoconferencing: Members of the public who wish to use Zoom videoconferencing to attend the meeting and/or offer public comment may "raise their hand" by using that feature within the Zoom software program during the portion of the hearing designated for public participation.
By Telephone: Members of the public who wish to attend the meeting and/or offer public comment by telephone should call in at the phone number provided above and press *9 on their keypad to "raise their hand" during the portion of the hearing designated for public participation. During other portions of the meeting, members of the public are asked to mute their line by pressing *6 on their keypad to mute or unmute their line.
By Email: Members of the public may provide written comments to the Board by emailing those comments to duwa@ohm-advisors.com on or before 5:00 p.m. EST on Thursday, April 13, 2023, and should reference "April 13, 2023 Public Hearing on Proposed SRF Project" in the subject line of the email. The opportunity to submit written comments by email may remain open throughout the duration of the public hearing.
By U.S. Mail: Members of the public may provide written comments by United States mail addressed to:
Downriver Utility Wastewater Authority
c/o DUWA System Manager, OHM Advisors
34000 Plymouth Road
Livonia, MI 48150
Written comments by U.S. mail should reference "April 13, 2023 Public Hearing on Proposed SRF Project" in the letter. The opportunity to submit written comments by U.S. mail may remain open throughout the duration of the public hearing.
If a member of the public requires accommodation due to a disability, please contact duwa@ohm-advisors.com  or call (734) 522-6711 and ask to speak with DUWA's System Manager no less than 72 hours prior to the date of the meeting.
JULY 14, 2022: Surcharge Rate Increases
DUWA's Technical Committee will meet on July 28th to review the need for surcharge rate increases due to increased plant operating costs. The surcharge rates will be reviewed for BOD, TSS, and Total Phosphorous. If the Technical Committee agrees on the need for these surcharge rate increases, the new surcharge rates will go into effect on August 1, 2022.
MARCH 24, 2022: Fats, Oils, and Greases (FOG)
Fats, oils, and greases, or "FOG" can create clogs in the sanitary sewer system resulting in sewer backups and overflows. An informational pamphlet on how homeowners, restaurants, and businesses can properly dispose of FOG is provided here.
MARCH 23, 2020: Covid19, 'Flushable' Wipes, and Fatbergs
DUWA and their member communities are asking residents to avoid flushing sanitation wipes even if the package states they are flushable! Other alternatives to toilet paper including paper towels and facial tissues also should not be flushed in local sewer lines as people practice guidelines to combat the ongoing Coronavirus pandemic. While the "flushable" wipes concern is not new to wastewater facilities, there is an increased risk to our system due to the current shortage of toilet paper.
DUWA is working closely with Veolia North America, which operates and maintains the wastewater treatment plant, to educate people about the need to avoid flushing inappropriate items down their toilets.
We ask that our residents pay extra attention to what items they are using and flushing and remind you not to flush anything other than toilet paper, whether being used for personal hygiene purposes or for wiping and cleaning surfaces. Although many so-called "disposable" hand wipes are advertised as being safe for flushing, in reality they can cause backups in the system and contribute to buildup of foreign materials. In some cases, they can attach to buildups of grease in the system and create large blockages called "fatbergs."
Here are some items that should not be flushed down sewer lines:
Paper towels
Napkins
Wet wipes/baby wipes
Facial tissues
As a general reminder, here are "Dos and Don'ts" for avoiding backups in the local sewer lines:
DO NOT flush wipes, gloves, towels or other trash down the toilet, even if they're labeled flushable.
DO NOT pour grease down kitchen sinks or toilets. Instead, put grease in a sealed non-recyclable container and throw it out with regular garbage.
DO toss dirty baby, makeup and cleaning wipes, tampons, sanitary pads and condoms in the trash.
DO NOT use the sink as a toilet or the toilet as a garbage disposal. DO reduce and reuse by using compostable or reusable makeup applicators, like cotton balls, and cleaning supplies, like paper towels or rags.
DO recycle finished toilet rolls, cardboard packaging from toothpaste and brushes, and plastic packaging from shampoos and shower gels.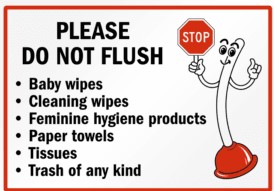 Thank you for helping keep our communities and facilities clean and functioning!
INFORMATIONAL VIDEO: Say 'NO' To Fatbergs: Don't Dump Grease Down The Drain