The following reports present DUWA's accomplishments by year and a look forward toward upcoming challenges. 
PREVIOUS ACCOMPLISHMENTS
2021: 
Downriver Utility Wastewater Authority hails three years of results and success: New management team, increased staffing, renewed investment and critical repairs are key highlights
DETROIT– After three years of operation under new ownership, the Downriver Utility Wastewater Authority (DUWA) is a major success story for Downriver residents, businesses and taxpayers, leaders said. The system's wholesale rates have remained rate neutral, while tackling major issues.
Key highlights include:
Increased staffing levels consistent with industry best practices and standards
A heavy emphasis on repairs and tackling deferred maintenance to head off potentially major disruptions or more significant maintenance issues
A zero-tolerance approach for regulatory violations which has resulted in a clean bill of health for the facility consistently for three years
Implementation of a biosolids dryer system to increase system resiliency
"Our long-term plan and vision to make DUWA a world-class facility is beginning to work, and I want to applaud the hard work and dedication of our DUWA Board, partner communities, amazing staff and our professional management team," said Gail McLeod, mayor of Allen Park and chair of the DUWA Board.
DUWA provides service to 13 communities and approximately 350,000 people in the Downriver area; Ecorse, River Rouge, Allen Park, Lincoln Park, Dearborn Heights, Taylor, Romulus, Riverview, Southgate, Wyandotte, Belleville, Van Buren, and Brownstown. The system processes 60 million gallons per day on an annual average at its wastewater treatment plant, with the ability to handle 225 million gallons per day during wet weather events. It also has a 15-million-gallon wet weather storage tunnel that is used to retain excess wastewater during wet weather events.
DUWA has no direct employees – they use consultants to manage and operate the system. DUWA is supported by OHM Advisors as the System Manager. OHM oversees the overall business of the board; this includes contract administration, coordination of DUWA's professionals, as well as near- and long-term capital and regulatory planning. Legal support is provided by Fausone Bohn, LLP. Plant Moran acts as the system's Financial Consultant.
Veolia Water North America is responsible for the day-to-day operation and maintenance of the treatment facility and collection system. "The professional management and leadership expertise of Veolia has proven to be a critical element to making the DUWA something all Downriver residents can be proud of," McLeod said. "We look forward to the future of increased investment, continuous improvement, including aesthetic improvements, and innovation to take our successes at DUWA to the next level."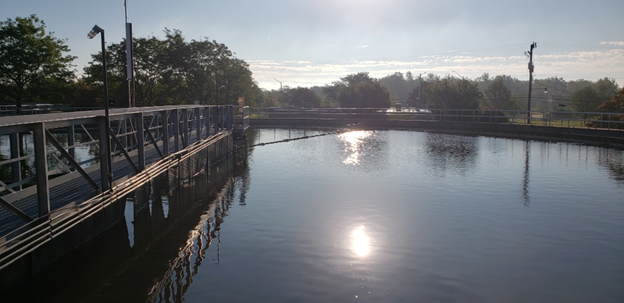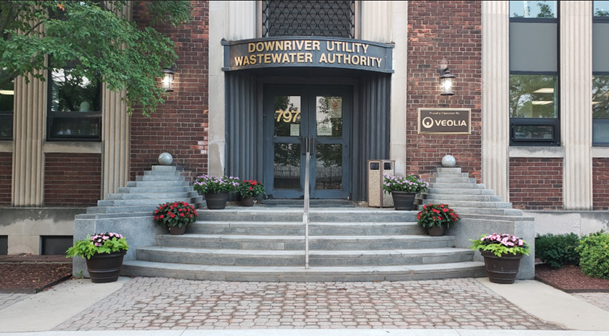 2019
The Downriver Utility Wastewater Authority took on the major responsibility of owning the Downriver Sewage Disposal System (DSDS) in late September 2018, when the system was transferred from Wayne County to DUWA. The transfer of the system was a major undertaking, and required an impressive amount of government cooperation. DUWA was recently awarded by APWA's Downriver Branch for 2019 Project of the Year for Government Cooperation in recognition of its efforts.