Downriver Sewage Disposal System - DSDS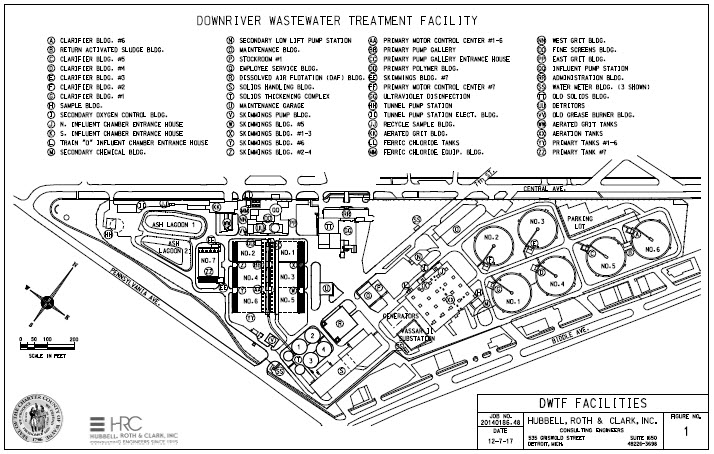 The Downriver Sewage Disposal System consists of a wastewater treatment plant which is situated on a 34 acres site in the City of Wyandotte, Michigan, along with approximately 46 miles of interceptor pipe which is used to convey wastewater from 13 tributary communities (Allen Park, Belleville, Brownstown Township, Ecorse, Dearborn Heights, Lincoln Park, River Rouge, Riverview, Romulus, Southgate, Taylor, Van Buren Township and Wyandotte).
The System also includes a 15 million gallon wet weather storage tunnel which is used to retain excess wet weather flows during rain events.
The wastewater plant treatment process consists of influent pumping, preliminary treatment, primary treatment, secondary treatment (high-purity oxygen activated sludge with secondary settling), and UV disinfection. Chemical addition is used to facilitate phosphorus removal, and the biosolids generated in the treatment process are dewatered at the plant and transported off-site for disposal.
The wastewater plant has the capacity to provide primary treatment for up to 150 million gallons per day (MGD), and capacity to provide secondary treatment for up to 125 MGD.
Influent pumping is rated at 225 MGD.
Average daily flows are approximately 50 MGD, but peak wet weather flows can reach 225 MGD during some precipitation events.
The Interceptor System consists of three main elements with a total length of slightly more than 63 miles. The Riverdrive Interceptor transports flow from the communities of River Rouge, Ecorse, Lincoln Park, Southgate, Wyandotte and approximately 90 percent of the wastewater from Allen Park. The Riverview Interceptor transports flow from the City of Riverview. The Pennsylvania Interceptor transports flow from eight Downriver communities including Belleville, Van Buren Township, Romulus, Taylor, Dearborn Heights, Brownstown Township, and portions of Allen Park and Southgate. Each local community is responsible for the operation and maintenance of their local collector sewers that convey wastewater to the System, and the scope of work for this RFP does not include any work on local collector sewers.
The wet weather storage tunnel which provides storage capacity for 15 million gallons includes the Lower Tunnel segment, the Upper Tunnel segment and the Allen Park Spur. The wet weather tunnel serves the  Communities of Allen Park, Belleville, Brownstown Township, Dearborn Heights, Riverview, Romulus, Southgate, Taylor and Van Buren Township.
DUWA Site plan
Here is the print version of the DUWA Site Plan.